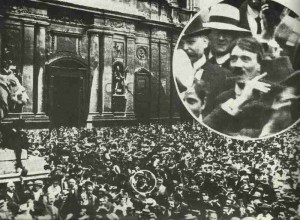 World War One Diary for Sunday, August 16, 1914:
HOME FRONTS
Germany: Austrian-born Adolf Hitler volunteers to fight with the German Army. He will serve throughout the conflict on the Western Front as a messenger, suffer wounds, and receive various medals for valor.
Kaiser leaves Berlin for Western Front.
Turkey: The government announces formal purchase for German ships. 'Breslau' anchors off Constantinople. Rear Admiral Souchon asks for 548 extra German sailors (Admiral Usedom leaves Berlin August 22).
Russia offers defensive military alliance, rejected.
WESTERN FRONT
Belgium: After days of intense bombardment from the massive German 17-in (42-cm) howitzers, which leave the defenders' forts in ruins, the garrison of the last two forts of Liege surrenders. With the Belgian fortress neutralized, the German First Army commanded by General Alexan­der von Kluck and the Second Army led by General Karl von Buelow push westward across the Meuse River. The Belgian Army begins to withdraw, destroying bridges as it retreats.
Indecisive action at Wavre.
Alsace: Main French advance resumed after 'Chasseurs Alpins' cross Vosges passes.
France: Landing of original BEF completed. Joffre and Sir J French first meet at GOG.
EASTERN FRONT
STAVKA (Russian HQ) set up at Baranovichi rail junction, 80 miles (ca. 129 km) southwest of Minsk.
SOUTHERN FRONTS
Serbia: Battle of the Jadar (until August 24): Serb Second Army C-in­-C Gen Stepanovic rallies 1st Combined Division against Austrian 9th Division until 1st Morava Division averts crisis at 1400. Serb Cavalry Division prevents Austrian link up with Sabac garrison. Austrian XIII Corps captures Krupanj forcing back whole Serb left wing. Conrad allows only IV Corps of Second Army to stay in response to Potiorek's pleas­.
Bosnia: Serb Uzice Army attack on Visegrad (and on August 20-21) repelled; Austrian Sixth Army counter-attacks, retaking Uvats (August 20-22)­.
AIR WAR
Western Front: French troops shoot down Army Zeppelin L7.