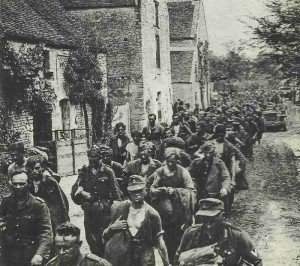 WW2 War Diary for Sunday, August 20, 1944:
RUSSIAN FRONT
2nd and 3rd Ukrainian Fronts attack German-Romanian Army Group South; Romanian 3rd Army broken.
SEA WAR
German heavy cruiser Prinz Eugen bombards Russian position on Gulf of Riga.
WESTERN FRONT
Falaise Gap closed by Allied forces; British capture Argentan. Americans establish bridgehead over the Seine at Mantes-Gassicourt, northwest of Paris. De Gaulle lands at Cherbourg.
AIR WAR
Europe: 142 Russian planes attack U-boats and shipping at Constanta.
OCCUPIED FRANCE
Resistance forces capture Toulouse and set fire to Paix oil refinery at Douai.