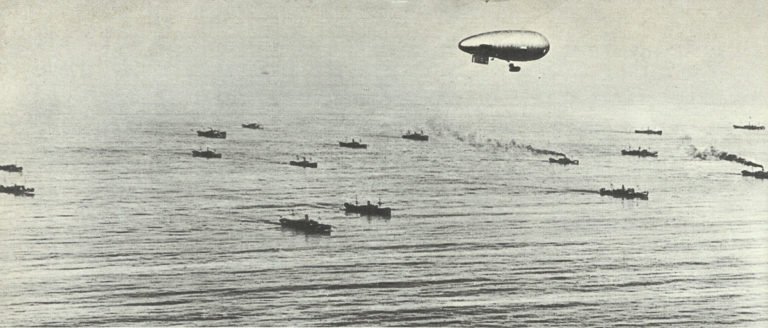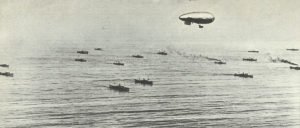 WW2 War Diary for Monday, April 1, 1918:
Sea War
Atlantic: In April fast US troop convoys begin, transporting 1,037,000 troops for loss of 3 transports; Aquitania carries 60,000 men in 9 voyages.
Mediterranean: In April First Sea Lord and Royal Navy Intelligence chief Rear-Admiral Hall visit Malta to reorganize C­-in-C's staff to reduce shipping losses. Fixed Otranto Barrage begun (until September) but 121 U-boat passages (until August) despite 58 depth charge attacks.
Britain: In April HMS Simoom, first S-­class destroyer completed (ordered Apr 1917), 18 more completed by Armistice. During April Allied shipbuilding for first time exceeds lost tonnage and does so for duration of war.
Air War
Britain – RAF ESTABLISHED by Act of Parliament: world's first fully independent air arm amalga­mates Royal Flying Corps and Royal Naval Air Service (c.2,950 aircraft), administered by Air Ministry under Secretary of State (Lord Rothermere). CAS: Trenchard (deputy CAS Kerr). Women's Royal Air Force (WRAF) formed. Retains RFC organization. All ex-RNAS units add 60 to squadron numbers and 200 to wing numbers; RNAS officers receive military ranks; 63 RAF squadrons and 1 Special Duty Flight in France.
In April London Air Defence Area has 282 fighters on 14 airfields, 260 guns and 353 searchlights.
France: 7 Gotha bombers drop 21 bombs on Paris.
Mediterranean: RAF HQ at Malta, 6 aircraft/seaplane carriers based there or at Alexandria and Mudros.
Salonika: No 150 Squadron RAF formed with flights from Nos 17 and 47 Squadrons, destroys or captures 36 Bulgar aircraft for loss of 1 (until September 18).
Western Front: RAF Nos 100 and 216 night bombing Squadrons transferred to French zone to raid rail targets in Chalons­sur-Marne sector on six 6 nights (until May 9).
Persia: Martinsyde Scout of No 72 Squadron joins Dunsterville at Hamadan.
Palestine: During April one British anti-aircraft section of 2 guns (17 sections with EEF) in action 76 times, firing average of 100 rounds, Germans especially note hampering of reconnaissance during April 13-19.
Western Front
Somme: Heavy clashes near Albert, Grivesnes and at Hebuterne. British war poet and painter Pte Isaac Rosenberg killed aged 27 east of Arras (4th Division). 1,000 British dismounted cavalry (300 casualties) recapture Rifle Wood with 100 PoWs and 13 MGs.
Eastern Front
Germany: During April 8 German divisions transfer to Western Front.
USSR: Red Army now 114,678 soldiers strong, 30 divisions planned (88 divisions in May).
Finland: German Baltic Division sails from Danzig escorted by 4 battleships. Whites close ring on 1,000 Reds in Battle of Rautu (until April 5).
Secret War
Ukraine: During April French Captain E Bordes, officially helping Red Ukraine C-in-C Antonov, moves 3,000 rail wagons of munitions to Samara on Volga, out of German reach. Similar convoys (including strategic minerals) to Tsaritsyn and Baku.