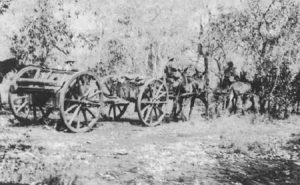 Diary for Thursday, April 13, 1916:
African Fronts
East Africa: 800 South African horse troopers pursue c.200 Germans for 20 miles in rain and occupy Salanga; 190 animals lost to tsetse fly (since April 7).
Middle East
Sinai: 90 ALH (Australian Light Horse; mounted infantry) break up Turk camp at Jifjaffa 52 miles from Canal.
Air War
Eastern Front: Russian IM heavy bomber Mourometz X (Konstenchik wounded) returns on a single engine after severe damage from anti-aircraft fire over Dandsevas rail station.
Western Front­: Poor weather hampers flying (­and on April 15, 17-19 and rain on April 22).
Home Fronts
Britain: Lloyd George tells a confidant he might resign.