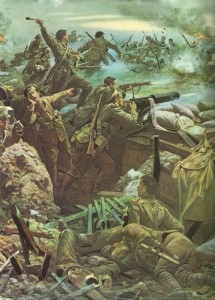 Diary for Friday, April 23, 1915:
Western Front
Ypres – Second German gas attack: they take Langemarck, Steenstraate bridge and positions south of Lizerne as Allied counterattack collapses.
First Canadian VC of the war: L/Cp F Fisher (13th Bn).
Southern Fronts
Italian Advanced Occupation region raised to 8 corps, a Bersaglieri division and 2 Alpini groups.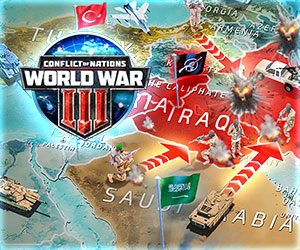 Middle East
Dardanelles: Sub-Lt Rupert Brooke, war poet, died of blood-poisoning aboard hospital ship at Skyros, aged 27.
Sea War
East Atlantic: British blockade of the Cameroons formally begins (raised February 29, 1916).
Home Waters: Fisher tells Churchill U-boats able to radio 300 nm day or night.
Aegean: Allied Gallipoli landing force (200 ships) belatedly arrives off beach­head. After the naval failure the transports (not loaded to permit rapid disembarkation under fire) have had to be withdrawn to Egypt for reloading.
Baltic: U26 (Berckheim) stops and sinks Russian SS Frack. Royal Navy submarine E1 towed to sea by icebreaker.
Home Fronts
Turkey: Constantinople police arrest 235 leading Armenians for internal exile.
Britain: Pensions for dependants of civilians killed on War Depts' work.
Austria – Vienna: bread of poor quality, hardly flour available.