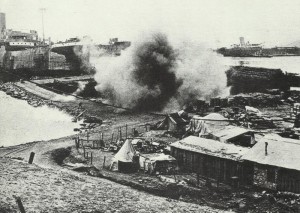 Diary for Sunday, April 25, 1915:
Middle East
BRITISH LANDINGS ON GALLIPOLI PENINSULA: 33,000 Allies land round Cape Helles, at Anzac Cove (mistakenly) and Kum Kale in Asia (3,000 French in feint until next day). Losses: Allies c.4,178, Turk c.4,730.
Sea War
Aegean and Dardanelles: Allied landings on Gallipoli Peninsula supported by 18 battleships, 2 cruisers, 29 destroyers and 8 submarines which fire 8,010 shells. River Clyde, converted collier landing ship at V Beach, fails to work as planned but her crew win 5 Victoria Cross. Australian submarine AE2 sinks Turk gunboat in Narrows and is first Allied boat into Sea of Marmara.
East Africa: RNAS Short 'folder' seaplane photographs cruiser Königsberg but unable to bomb.
North Sea: First sea-going U-boat U21 (Hersing) sails for Mediterranean from Wilhelmshaven (refuels with wrong fuel oil off Northwest Spain on May 2).
Black Sea: Russian squadron bombards Bosphorus forts (repeated on May 2, 3, 4).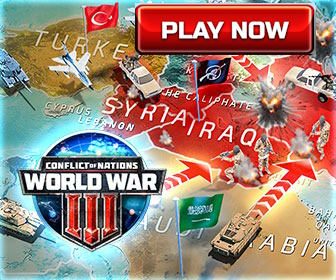 Western Front
Ypres: Lizerne again in German hands. British 10th Brigade loses 2,419 casualties in vain bid to recapture St Julien.
African Fronts
Southwest Africa: Smuts (arrived at Kalkfontein on April 10 to command in the South) mauls German rearguard at Gibeon until next day, Central Railway.