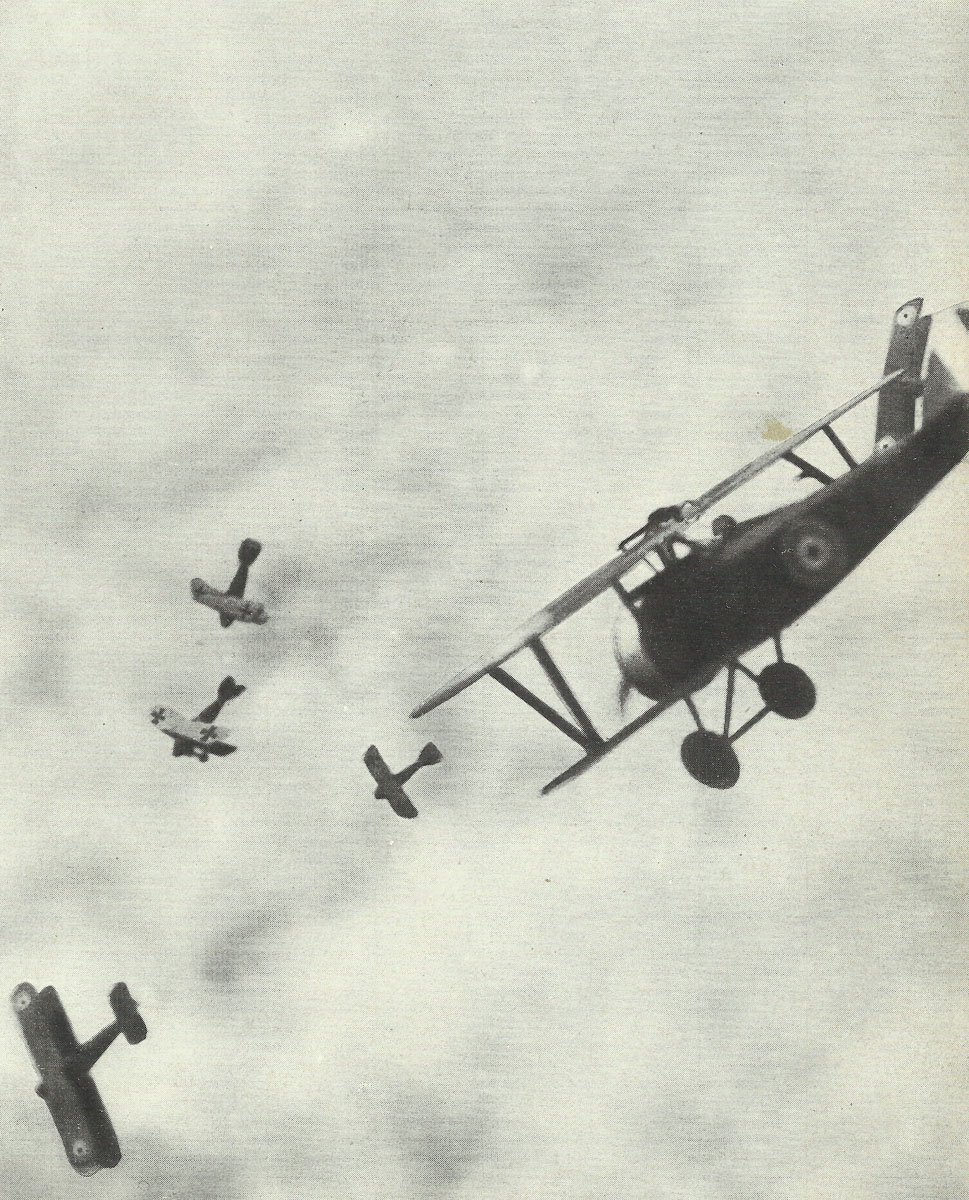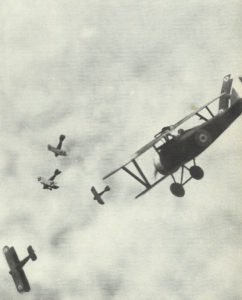 World War One Diary for Monday, April 30, 1942:
Air War
Western Front: Clashes over front line as German two-seaters strafe British lines. Jasta 11 combined with 2 , 3 and 33 into Jagdgruppe 1 of 20 single-seaters which Royal Flying Corps dub 'Richthofen's Circus' (renamed Jagdgeschwader 1 on July 24). Richthofen goes on leave on May 1 after 21 victories during April.
Royal Flying Corps April losses 316 aircrew and 151 planes (88 to Jasta 11) of which 82 to only 5 German pilots; total German 119 aircrew and 66 aircraft.
German April victories: Kurt Wolff 21; Karl Wolff and Lothar von Richthofen 15 each; Otto Bernert 11; Sebastian Festner 10.
Mesopotamia: During April Royal Flying Corps fly record 335 hours.
Britain: Royal Navy airship SL 9 destroyed in storm.
Sea War
ALLIED AND NEUTRAL APRIL SHIPPING LOSSES WORST MONTH OF BOTH WORLD WARS: 873,754t (373 ships). German U-boat history figure 860,334t of which 278,038t (23,037 to Austrians) in Mediterranean; another 113,000t shipping damaged.
Projected since April 17, 50% risk of destruction to homeward bound ships 2 in 11, annual loss rate, one in 4 ships leaving Britain being sunk. Only 1 U-boat lost. British mine-sweepers (almost 1 lost per day)
U-boats have attacked 781 ships since February 1: 526 sunk, 37 damaged for loss of 10 U-boats (record of 802 t per U-boat day in Mediterranean), 13 new U-boats commissioned. Lloyd George visits Admiralty and reinforces convoy decision.
Secret War
North Sea: During April Royal Navy orders 136 Nash Fish towed hydrophones after successful trials. In use with 54 patrol vessel since 1918 as U-boat encounters.
Middle East
Mesopotamia – Battle of Band-i-Adhaim: Marshall's 5,200 men (692 casualties) and 64 guns vs 6,270 Turks (565 casualties including 365 PoWs) and 39 guns (1 lost). British storm Turk second line and beyond but lose gains to 6 vs 1 counter-attack in dust storm.