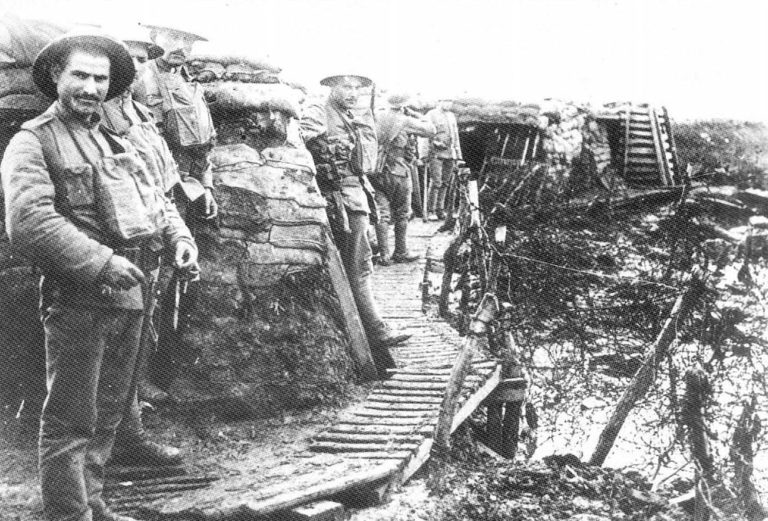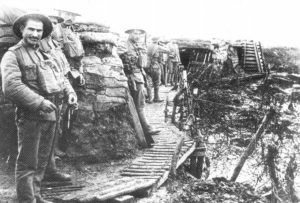 World War One Diary for Tuesday, April 9, 1918:
Western Front
Flanders – LUDENDORFF'S SECOND BLOW, BATTLE OF THE LYS BEGINS (until April 29) (German Georgette offensive against BEF First and Second Armies on river Lys). Ludendorff aims to drive back British and Belgians west of Dunkirk and open road to Calais. After 4 1/2 hour hurricane shelling 14 German Sixth Army divisions attack from 0845 hours on 10-mile front; 4 divisors overwhelm Portuguese 2nd Division (6,000 PoWs) and drive a 3 1/2-mile deep wedge, steadily widened, into BEF front although 55th Division holds southern wing taking 750 PoWs and 100 MGs. British and Portuguese pushed back to river Lys at Estaires (fighting until April 11), losing one footbridge. German gas bombardment of Lys (until April 27) sector: 1 million rounds (2,000t) mustard gas, phosgene and diphenylchlorarsine; 8,424 gassed (30 deaths).
Somme­: French lose and regain Hangard.
Eastern Front
USSR: Count Mirbach appointed German Ambassador to Moscow (arrives April 23).
Rumania: Moldavian National Council passes Act of Bessarabian union with Rumania; Ukraine protests (April 16, Moscow on April 18), but Germany recognizes.
Kuban: ­Kornilov's 6,000 Whites repel Red attack on their river Kuban crossing place, and storm ridge west of Ekaterinodar (April 10), but Avtonomov's 20,000+ Reds in town resist fiercely (until April 12).
Middle East
Action of Berukin (until April 11): British 75th Division (plus 162 guns) attacks in Judean foothills vs Turk 16th and 46th divisions (over 85 guns), gains only 2,500 yards. Turks capture operations order on first day and 2 German battalions strike back. (EEF 1,498 casualties; Turks c.700)
Arabia: Arabs claim 40,000 Turks neutralised to date.
Air War
Western Front: Fog delays Flanders flying in Ludendorff Lys offensive till late pm (until April 11). 492 German aircraft (including 14 Jastas) vs 38 RAF squadrons, RAF lose 10 planes to German 15.
Politics
France: Clemenceau discloses Emperor Charles' 31 March 1917 peace letter to Prince Sixtus. Czernin calls it a lie. Burian diary 'Now we really are tied to the fate of Germany whether we want it or not'.