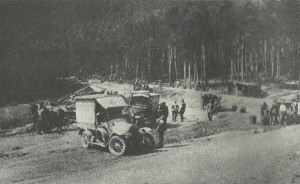 Diary for Wednesday, August 18, 1915:
Western Front
Vosges: French storm trenches on Ablain-Angres road, but Germans retake it next day. French storm trenches on Schratzmännele crest and take the crest on August 22.
Southern Fronts
Isonzo: Italian progress towards Tolmino and in Upper Rienz (Julian Alps); attack on former on August 23.
Sea War
Baltic: 2 German destroyers shell and machine gun and cripple Royal Navy submarine E13 (14 crew killed) which is stranded on Saltholm Island in the Sound (international waters) despite 3 Danish torpedo boats. E8 gets through, meets E9 and Russian destroyer on August 22.
Home Fronts
Bulgaria: War and Foreign Ministers resigns.
Britain: Police raid Labour Leader offices.