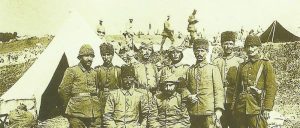 Diary for Tuesday, August 22, 1916:
Eastern Front
Galicia: Turk 19th (arrived August 13) and 20th Divisions (Gallipoli veterans) take over 12-mile sector between Suedarmee German divisions.
Western Front
Battle of the Somme: Haig chides Rawlinson for failing to take Guillemont. German counter­-attacks at Guillemont repulsed on August 23.
Southern Fronts
Italian Front: Italian successes in Dolomites (and on August 24).
Macedonia: Bulgar First Army storms Serb ridge west of lake Ostrovo five times only to be thrown off; take only onb position on August 23. British lorries bring up Serb reinforcements.