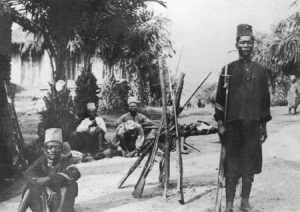 Diary for Saturday, August 26, 1916:
African Fronts
East Africa: Rhodesians and Baluchis occupy Morogoro on Central Railway (Smuts enters August 27), 115 miles east of Dar-es-Salaam; 28,000 British oxen lost since May 25. Lake Force begins advance south on Tabora, awaits news from Belgians 50 miles to west.
Western Front
Battle of the Somme: German counter-attack near Thiepval. Australians capture heavily fortified Mouquet Farm.
Sea War
Adriatic: Austrian air raid sinks an Royal Navy Otranto drifter (96 on strength on September 10; spending 10 days at sea, 3 1/2 in port).
Air War
Rumania: 2 French pilots arrive at Bucharest from Verdun via London, Oslo and Archangel; request 50 pilots and 55 aircraft from Paris.