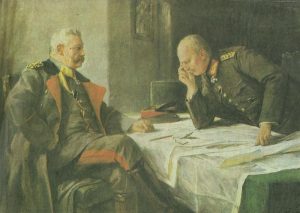 Diary for Tuesday, August 29, 1916:
Western Front
Germany: FALKENHAYN (German CoS) DISMISSED BY KAISER, REPLACED BY FM HIN­DENBURG WITH GENERAL LUDENDORFF (1st QMG) AS HIS ASSISTANT.
Battle of the Somme­: Since July 1, British have taken 15,469 PoWs, 86 guns and 160 MGs.
Eastern Front
Germany: HINDENBURG CHIEF OF STAFF, LUDENDORFF FIRST QMG (GHQ at Pless until February 1917).
Transylvania­: Rumanians occupy evacuated Kronstadt, Petrosani and Kezdiasarhely.
African Fronts
East Africa: NRFF occupies Iringa (760 Germans evacuate on August 27) in Southern Highlands, 250 miles marched since May 25. Hannyngton's 2nd East African Brigade (1st Division) crosses river Msumbisi in heavy rain.
Neutrals
USA: Army and Navy Appropriation Acts authorize $580 million spending and create Council of National Defense. Marine Corps Reserve created and USMC increased to 15,578 men.