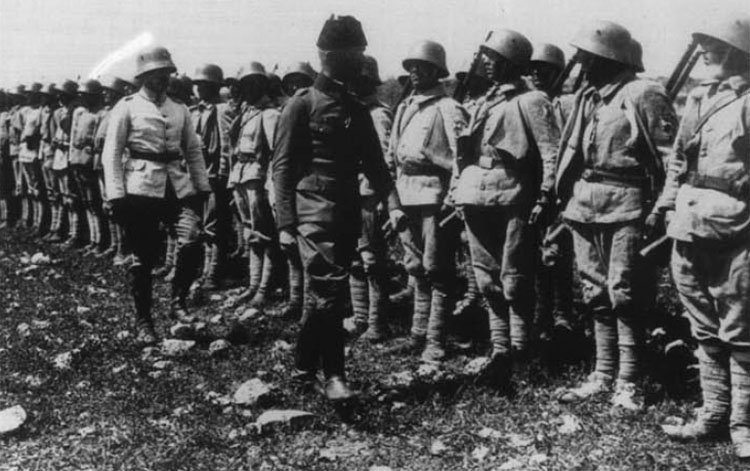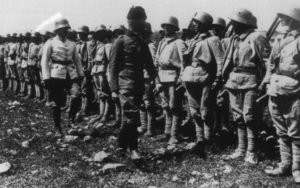 World War One Diary for Saturday, December 1, 1917:
Middle East
Palestine: Turk 19th Division's German-style storm battalion destroyed attack of ALH and 52nd Division at El Burj. Kress hands over Eighth Army to Djevad Pasha. 2 Australian armoured cars liberate Hebron in 210-mile round trip looking for a Turk agent until December 2.
Western Front
Cambrai: British Guards Division and dismounted cavalry with 19 tanks recapture Gonnelieu southwest of Cambrai and most of Gauche Wood, but British 29th Division withdraws from Masnieres salient. Heavy German attacks at Bourlon Wood.
Verdun: ­German attack north of Fosses Wood, others fail to reach Avocourt and Forges (December 4, artillery duels northeast of city on December 8).
Sea War
Britain: US CNO Benson promises Italian Marine Minister in London five 5,000-t merchant ships and 2 or 3 tankers, minesweepers, tugs, small escorts and 5-inch guns. US dreadnought division of 4 battleships (Rear-Adm Rodman in battleship New York) joins Grand Fleet.
Germany: During December all U-boats withdrawn from Baltic (last sinkings was in October).
Western Mediterranean: During December 751 merchant ships arrive at Gibraltar, 252 with coal, 56 handle cargo, 107 repaired.
Air War
Western Front: Record of 4,338 Royal Flying Corps aircraft serviceable.
Egypt and Palestine: Record of 692 RFC aircraft serviceable.
Cambrai: RFC more active than Germans, 5 air combats cost 3 German and 1 British aircraft with 2 balloons.
Greece: In December first all-Greek reconnaissance-bomber escadrille (French-trained) formed, 3 other units created by Armistice.
Politics
France: Allied Supreme War Council begins work at Versailles and presents plans for 1918 on December 13. Allied Prime Ministers decide no more supplies for Russia, but guarantee Rumania's monarchy and prewar territory and defer Polish question.
Austria: Neue Freie Presse prints Ludendorff interview: 'Russian Revolution … is the outcome of our victory we can conclude an armistice with Russia only when we are certain it will be observed'.