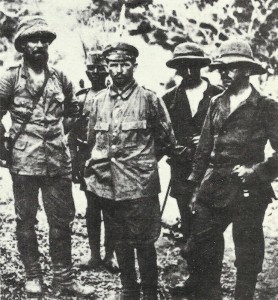 Diary for Saturday, December 25, 1915:
African Fronts
Uganda Railway: Germans repulsed from Ndi station (until next day); 17 British cause 24 German casualties in cross-border raid.
Cameroons: British reject Christmas Day ceasefire and force Ngoa on December 26.
Western Front
Flanders: Intermittent minor artillery duels (with mining on December 26). King's Christmas message to BEF.
Vosges: French artillery battery claims hit on munitions train stopped in Hachimethe rail station southeast of Bonhomme.
Middle East
Gallipoli: Evacuated troops mainly at sea between Lemnos and Egypt (until December 31).
Helles­ bridgehead: French infantry gone (December 12-22), but General Brulard leaves guns to cover British who begin loading stores.
Home Fronts
Britain: Lloyd George Glasgow speech says 80,000 skilled munition workers needed, shouted down by 3,000 shop stewards.
France: Soldiers' Day (until December 26). In December 850,000 people employed in munitions work.
Secret War
Britain: Haig notes on Churchill memo 'Is anything known about the caterpillar (tank) ?'