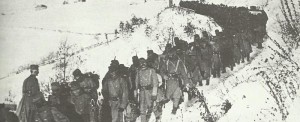 Diary for Tuesday, December 7, 1915:
Southern Fronts
Serbia: Austrian Third Army captures Pec and then links with Bulgar 3rd Division, as fighting peters out.
Albania: Putnik in sick litter arrives at Scutari and resigns because of ill-health.
Western Front
Flanders: Germans abandon flooded trenches on river Yser.
Champagne: ­French lose, then recapture advanced position near St Souplet.
Middle East
Gallipoli: British cabinet agrees to Suvla and Anzac bridgeheads evacuations.
African Fronts
Cameroons: General Dobell orders British solo advance on Yaunde.
Neutrals
USA: President Wilson denounces disloyal foreign­-born Americans in annual message to Congress.