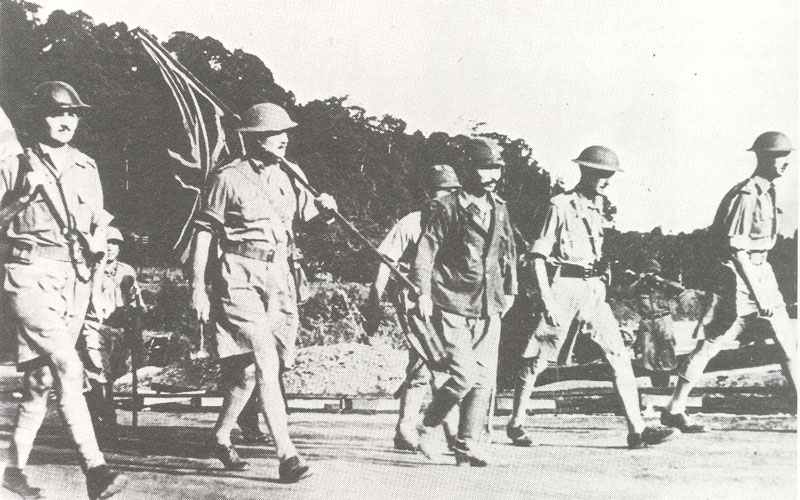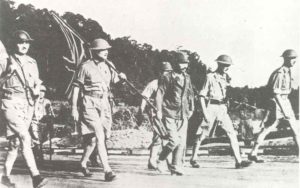 WW2 War Diary for Sunday, February 15, 1942:
Far East
Malaya: FALL OF SINGAPORE. General Percival surrenders unconditionally to General Yamashita, who was outnumbered more than 1-to-3. 80,000 PoWs taken, which is the most terrible British defeat in military history.
[tableX caption="Malayan Campaign Losses" colwidth="33|33|33″ colalign="left|center|center"]
, Japanese, Allied
Dead, "3,507", "8,708"
Wounded, "6,150", "(incl in PoWs)"
PoWs, "-", "130,000"
Guns, ?, "c.740"
Machine-guns, ?, "2,500+"
Small Arms, ?, "65,000"
Armoured Cars, ?, "c.200"
"Rail engines, trucks", -, "c.1,000"
Light Planes, "-", 10
[/tableX]
Burma: Commonwealth forces withdraw to river Bilin.
Sea War
Atlantic: Brazilian ships Buarque and Olinda sunk by U-boats off American east coast (February 15 and 18).
Pacific: Japanese seaborne reinforcements land at Palembang (Dutch East Indies).
Home Fronts
Britain: Mrs Churchill's Red Cross Fund for Russia reaches £ 1.5 millions.