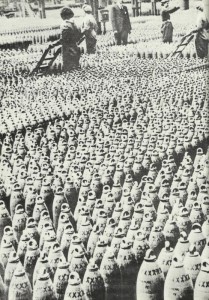 Diary for Sunday, February 21, 1915:
Home Fronts
Britain: Cabinet Munitions Production Committee formed.
Western Front
Champagne: French progress near Perthes.
Vosges: Huchrod and Strossweiler taken by Germans, but French 47th Division partially retakes latter with Reichskerkopf (night February 21-22).
Eastern Front
East Prussia: Russian XX Corps in Augustow Forest surrenders after vain breakout efforts (February 19-20).
Carpathians: Russians storm heights near Lupkow and Wyzskow Passes.
Middle East
Armenia: Turks driven across river Ichkalen. Turkish Government of Bitlis reports local revolt.