The first true submarine, the German Type XXI U-boat of WW2.
History, development, service, specifications, statistics, pictures, and model.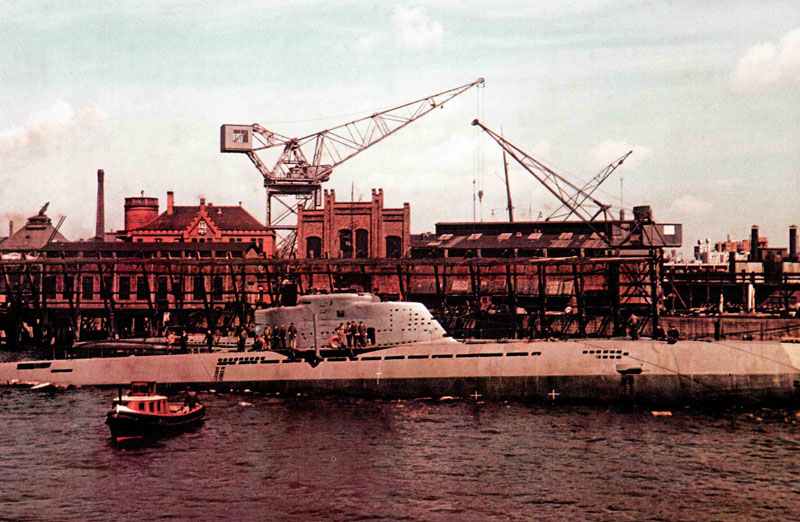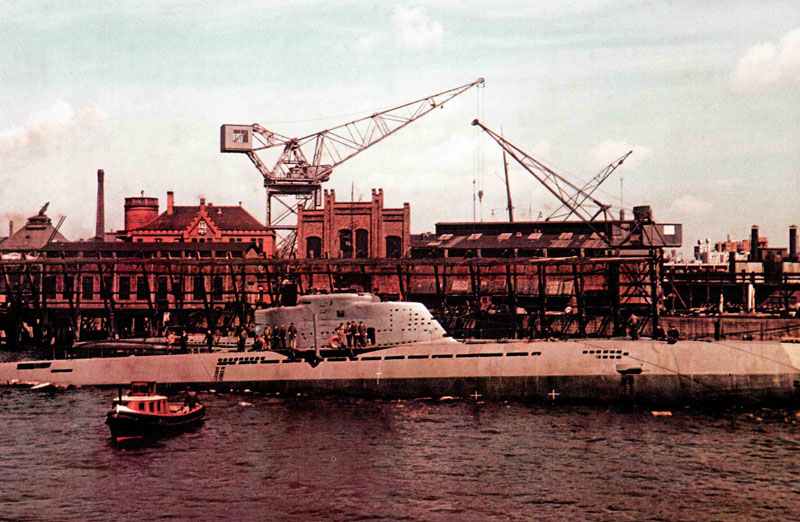 Type XXI
Type: German late-war U-boat (submarine).
History:
One of the most influential designs in the history of the submarine, the Type XXI was to set standards until the introduction of the nuclear boat a decade later. Though both closed-cycle turbines and diesels had been introduced, both still needed development, so a stopgap high-power electric boat was produced, using mostly established technology. With the lower pressure hull packed with high power density cells, the Type XXIs could, for the first time, develop more power submerged than surfaced. Their main propulsion motors were supplemented by low power units for silent maneuvering.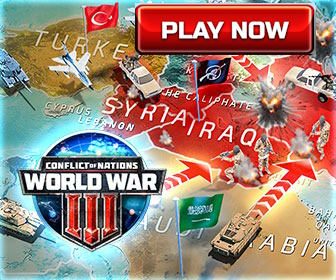 The design was suggested at a conference in Paris in November 1942 as an alternative to the Walter turbine boats which were taking so long to develop, and by June 1943 the preliminary design work was complete. The first Type XXI was built in June 1944.
Like that in the Type XVII, the pressure hull of the Type XXI was of 'double-bubble' cross section, though externally framed. It was prefabricated in eight sections at a variety of sites, being brought together for final assembly at the shipyard. The external framing increased volume and facilitated the addition of a hydro-dynamically clean outer skin. Construction was all-welded for a target of five boats per week in an ambitious program to produce an eventual 1,500 units (U-2500 to U-4000). Most other submarine programs were curtailed or cancelled to this end.
The Type XXI's were designed to spend their full patrol time submerged, so the snort was used mainly to run diesels for battery recharge. Habitability was greatly improved, with air-conditioning and air-regeneration apparatus.
The only guns were paired automatic weapons set into the forward and after profiles of the elongated fin. A combination of active and passive sonars was used to provide a full torpedo-firing solution without recourse to the periscope.
Additional advantages of this type of U-boat were quick deep-diving capability, a fast and silent speed and rapid torpedo reloading.
Two proposed but not more built variants, the Type XXIB and Type XXIC, would have increased the number of torpedo tubes from six to 12 and 18 respectively by the insertion of extra sections into the hull.
Fortunately for the Allies, the Type XXI never became fully operational before the end of WW2. Only one Type XXI U-Boat (U-2511) – of the total of 131 commissioned – began with the first operation one week before the German surrender. Several non-operational U-boats were sunk during the evacuation voyages from the ports in northern Germany, which were threatened by Allied troops, to Norway; all by aircraft and in home waters.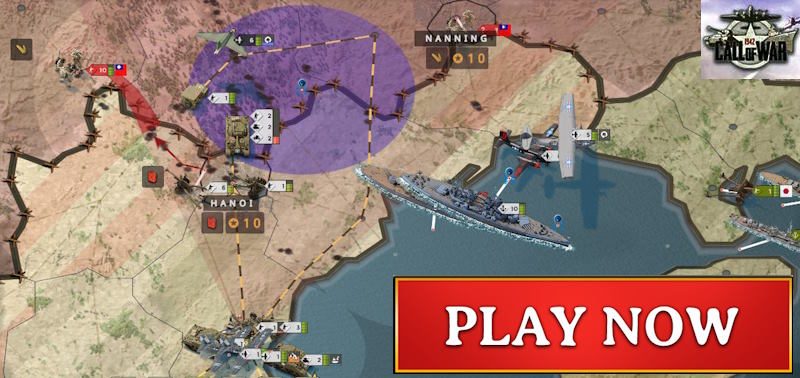 Users: Germany (Navy).
---
Specifications U-Boat Type XXI A
Specifications:

| Type XXI A | specification |
| --- | --- |
| Type | submarine |
| Displacement | 1,621 tons surfaced, 1,819 tons submerged |
| Length | 237 ft |
| Bream | 21.77 ft |
| Draught | 20.3 ft |
| Engines | 2 MAN surfaced diesels, electric submerged enginess, electric silent engines |
| Power | 4,000 hp surfaced, 5,000 hp submerged, 226 hp silent submerged |
| Fuel | 254 tons |
| Speed | 15.5 kts surfaced (XXIC: 15.6 kts), 16 kts submerged, 3.5-5 kts silent submerged (XXIC: 7.2 kts) |
| Range | 17,895 miles surfaced at 10 kts; 8,141 miles surfaced at 12 kts (XXIC: 9,682 miles at 12 kts); 208-325 miles at 6 kts submerged without Diesels |
| Diving depth | more than 1,000 ft |
| Crew | 57 |
Armament:

| Type XXI A | specification |
| --- | --- |
| Main Armament | 6 bow 21-in torpedo tubes with 20-23 torpedoes (Type XXIB additional 3 on each side to bow, Type XXIC additional 6 torpedo tubes on each side to bow) |
| Secondary Armament | - |
| Anti-Aircraft | standard: two twin 30-mm (1.18in) guns (most of the first boats two 20-mm twin guns) |
Service statistics:

| Type XXI A | figures |
| --- | --- |
| U-Boats | U-2501 to U-3695 (more than 131 commissioned + more than 5 for USSR post-war) |
| Launching June 1944 | 1 |
| Launching July 1944 | 7 |
| Launching August 1944 | 5 |
| Launching September 1944 | c.14 |
| Launching October 1944 | c.28 |
| Launching November 1944 | c.32 |
| Launching December 1944 | c.33 |
| Launching January 1945 | c.30 |
| Launching February 1945 | c.28 |
| plans for monthly average launching from March 1945 onwards | 22 |
| Operational | late April 1945 |
| Fate | 120 sunk or scuttled, 11 surrendered |