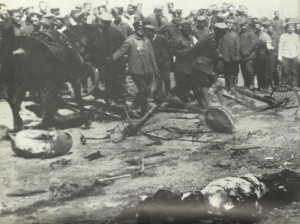 Diary for Friday, February 5, 1915:
Air War
Western Front: French pilot Pegoud in Morane 'L' scores 3 victories in single action: 2 German aircraft shot down, 3rd forced to land. Lieutenants Wadham and Borton of RFC in Morane 'L' force down Aviatik with rifle fire near Lille airfield. Some first Vickers FB 5 'Gun Bus' two-seat pusher­-engined fighters reach No 5 Sqn RFC.
Western Front
Flanders: Decreased shelling of British center and left (seaward) flank.
Eastern Front
East Prussia: Blizzards until next day. Russians capture – but ignore – documents from dead officer indicating German build-up. Hindenburg opens his headquarter at Insterburg.
Carpathians: ­Austrian attacks repulsed, the furthest progress made, Brusilov retakes Mezolaborcz rail junction. By February 6, Austrian Third Army had lost 89,000 men.
Home Fronts
Britain: Commons votes Army 3 million men, Navy voted another 32,000 men on February 8.
Austria: ­Korber (Prime Minister 1900-1904) returns as Finance Minister and Bosnia administrator.