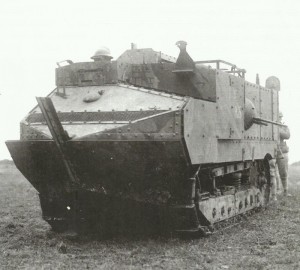 Diary for Friday, January 14, 1916:
Home Fronts
France: Colonel Estienne and Creusot engineer Brillie design Schneider tank with 75mm gun and 10mm armour, Joffre wants 400.
Ireland: Lord Lieutenant reports 146,000 enlistments to army to date, 100,000 more available.
Southern Fronts
Italian Front: Heavy fighting near Gorizia, but Italians lose Hill 188 to Austrian counter-attack on January 24 and evacuate to a less unfavourable Peuma-Oslavia line.
Air War
Western Front: Due to heavy losses by German Fokker Es every Royal Flying Corps reconnaissance plane to have 3 fighter escorts.
Neutrals
Portugal: Lisbon warehouse fire perhaps due to German sabotage.