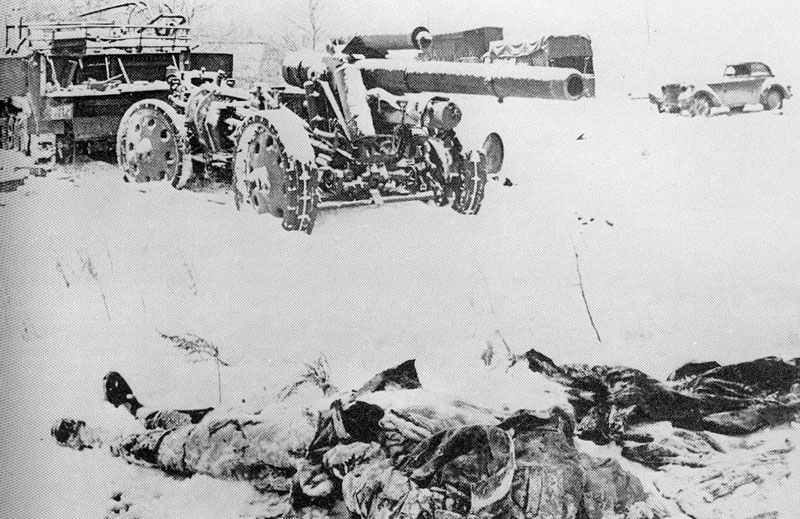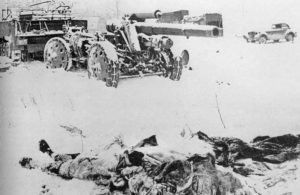 WW2 War Diary for Monday, January 5, 1942:
Eastern Front
STALIN ORDERS GENERAL OFFENSIVE in address to Stavka (GHQ of Soviet High Command). Offensive to be on four fronts: Leningrad, Moscow, Ukraine and Crimea. Zhukov urges that all efforts be concentrated on crushing the disorganized German Army Group Centre, west of Moscow, and that to attack on all fronts is overambitious – Stalin refuses to alter his plans.
Russians recapture Kirichi rail junction on Leningrad front and announce recapture of 572 populated localities on Central (Moscow) front. Booty includes 462 guns; 86 tanks and armoured cars; 202,000 shells; 75,210 mines; 3,091 field cars; 9 railway trains and 1,235t of food (January 1-5).
Siege of Sebastopol: Garrison counter-attack north of city while Black Sea Fleet lands reinforcements.
Southeast Asia
Malaya: Japanese land on west coast.
Sea War
Black Sea: Battleship Parizhskaya Kommuna shells German positions on Crimean coast (repeated January 12 and 15-16).
Mediterranean: Large Italian convoy reaches Tripoli. HMS Upholder sinks Italian submarine Ammiraglio St Bon, carrying petrol to North Africa.
Occupied Territories
France: Dismembered body of Yves Paringaux, head of anti-terrorist activities at Vichy Ministry of the Interior, found on railway line at Melun. Vichy government blames 'Communists'.