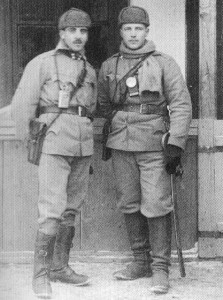 Diary for Sunday, January 9, 1916:
Southern Fronts
Montenegro: Austrians storm 4850ft Mt Lovcen ('the Gibraltar of the Adriatic'); Montenegrins retreat 12 miles to capital Cetinje and begin talks for soon-agreed local truce.
Western Front
Champagne: German attacks east and west of Butte de Massiges. French line penetrated at number of points (including Butte du Mesnil and Mt Tetu), ground partially regained on January 10-11.
Middle East
Mesopotamia: Turks retreat to Wadi, British occupy Sheikh Saad. Goltz replaces Nureddin with Khalil Pasha.
Egypt: Sir A Murray succeeds Monro (leaves January 11) as C-in-C MEF.
African Fronts
Cameroons: Main German force (2,500 men) retreating on Ebolowa, aiming for Spanish Muni. Captain Stein returns 214 Allied PoWs to British on river Nyong.
East Africa, Coast: ­Wavell's 80 Arab soldiers defeated at Mkongani but British drive 3 German coys from Ngurungani following day.