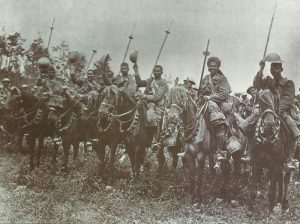 Diary for Friday, July 14, 1916:
Western Front
Battle of the Somme – Battle of Bazentin Ridge: 4 BEF divisions (22,000 men) break into German second position on 3 1/2-mile front after dawn 0325 hours surprise attack and 5-minutes bombardment, capture Longueval and Bazentin le Petit with 2,000 PoWs. 2nd Cavalry Division (102 casualties) rides on High Wood, has one charge causing 48 casualties (withdrawn at nightfall); 18th Division secures Trones Wood. Haig and Foch visit Rawlinson to congratulate him on success. Germans hurry 3 divisions up to plug gap.
Eastern Front
Western Russia – Battle of Baronovichi ends: Russian losses 80,000, mainly to shellfire. STAVKA decided to abandon it, German losses 16,000 men.
African Fronts
Lake Victoria – Lake Force takes Mwanza (began landing to east on July 11) but 500-man garrison escapes south. Deventer's 2nd Division takes Mpondi on Central Railway, resumes advance south (July 19). German rearguard mauls 2 Belgian battalions at Djobahika.
Sea War
North Sea: U 51 torpedoed by HM submarine H5 in Ems estuary.
Adriatic: Damaged Italian submarine Balilla scuttles off Cape Pianka, northwest of Lissa island, to escape surrender to two Austrian torpedo boats.