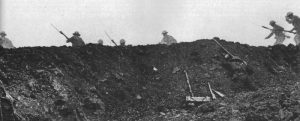 Diary for Tuesday, July 25, 1916:
Western Front
Battle of the Somme: All German troops cleared from Pozieres village. Haig, Foch and Fayolle agree joint attack for July 30. Rawlinson diary on Battle of the Somme film 'Some of it very good but I cut out many of the horrors in dead and wounded'.
Eastern Front
Brusilov offensiv, Galicia: Sakharov advances on Brody (within 5 miles on July 27), defeats Linsingen on river Slonuvka despite arrived Austrian 106th Landsturm Division from Italian Front.
Middle East
Armenia: Yudenich occupies evacuated Erzincan, farthest point west, splitting and routing Turk Third Army, 34,000 casualties (17,000 PoWs) by July 28.
Poilitics
Germany: US Ambassador Times protest against Ruhleben Camp inhumanity.
Home Fronts
Russia: Death of Lenin's mother in Petrograd, his sister Anna arrested by September 19.