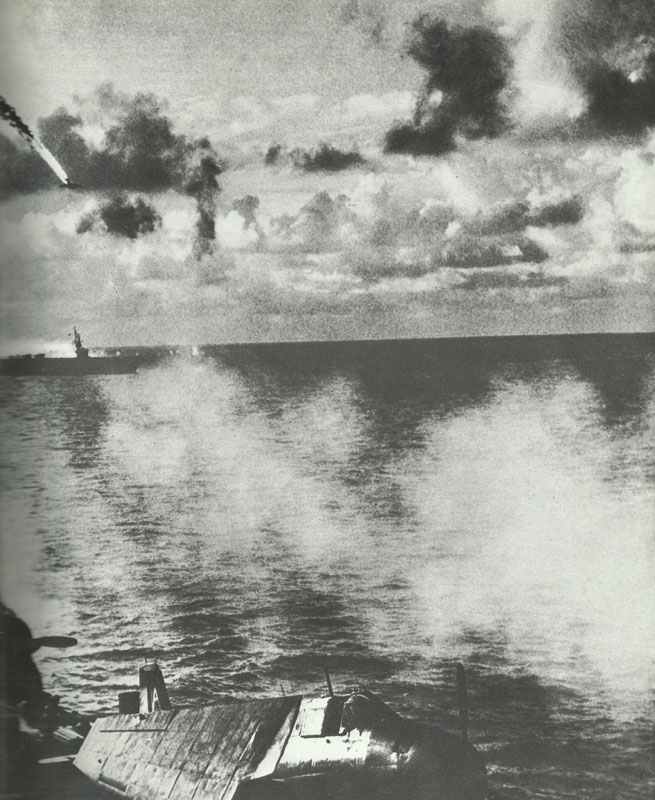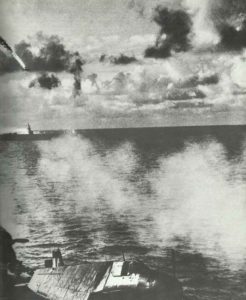 WW2 War Diary for Monday, June 19, 1944:
Sea War
Pacific – BATTLE OF THE PHILIPPINE SEA (June 19-20): Vice-Admiral Ozawa launches 372 carrier planes in 4 waves against US carrier force TF 58 at extreme range (480 km). 300 Hellcat fighters (29 lost) and proximity-fused anti-aircraft shells shoot down 242 planes ('Marianas Turkey Shoot'). 1 bomb-hit on battleship South Dakota. US fighters shoot down or badly damage 49 Japanese planes attempting to land on Guam. Submarines Albacore and Cavalla cripple Japanese carriers Taiho and Shokaku; Taiho explodes 6 hours later.
Atlantic: U-boat U-505 captured (Secret code-books recovered). 4-day storm, commencing this day, wrecks American 'Mulberry' harbour off 'Omaha Beach' and seriously damages British 'Mulberry' off Arromanches. Many landing craft swamped.