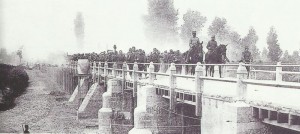 Diary for Friday, June 4, 1915:
Southern Fronts
Italian front: Falling river Isonzo (after sudden floods) finally lets Italian Third Army (Duke of Aosta) cross in strength.
Eastern Front
Galicia: Russians cease costly attacks (since 27 May) on Austrian Fourth Army. Austrians restrict Russian 2nd Rifle Division bridgehead south of river Prut.
Middle East
Gallipoli, Helles bridgehead – Third Battle of Krithia: 30,000 Allies (6,500 casualties) win only 250-500 yards (ca. 457 m) on a mile front. NZ & Australian Division has now 4,332 casualties of original strength of 8,543 soldiers since landing.
Sea War
Adriatic: First German coastal U-boats UB1 and UB15 (rail-transported) join Austrian Navy as U10 and U11 at Pola.
Constantinople­: UB8 arrives.
Baltic: Royal Navy submarine E9 (Horton) severely damages German destroyer S148 and a collier (2 crew members lost).
Air War
Britain: Attempted raids on London by German Navy airship L 10 and on Hull by SL3. L 10 bombs Gravesend (night June 4-5, 8 civilian casualties).