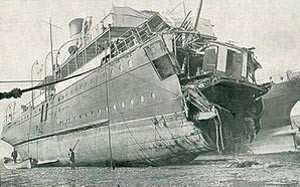 Diary for Friday, March 24, 1916:
Sea War
Channel: British Folkestone­-Dieppe ferry Sussex torpedoed by coastal submarine UB29 (Flanders Flotilla) as suspected troopship, 50 dead, including 3 Americans and Spanish composer Granados.
North Sea: Harwich Force sorties with carrier Vindex (5 planes) to raid supposed Zeppelin base at Hoyer, Schleswig, but 2 planes (lost) find sheds at Tondern instead (March 25). Destroyers sink 2 German armed trawlers but Medusa lost after collision with Laverack.
Politics
Germany: Three Americans die aboard French SS Sussex; US Ambassador in Berlin demands reason (March 27).
Home Fronts
Turkey: Language law makes company use of Turkish compulsory after July 10; also in schools and signs.