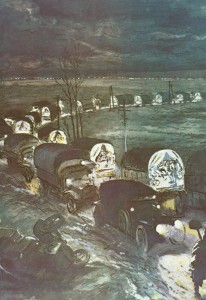 Diary for Friday, March 31, 1916:
Western Front
In April German Army ration strength 6,767,144 soldiers and c.8,000 MGs in service.
Verdun: French evacuate Malancourt and also lose ground at Vaux. German setback at Mort Homme. German casualties now 81,607 soldiers in 39 days, French 89,000 soldiers.
LA VOIE SACREE ('Sacred Way'): during March reaches 6,000 trucks per day. Maximum 50,000t stores and 90,000 men transported per week until June. Name La Voie Sacree coined by French political writer and ardent nationalist Maurice Barres (1862-1923).
Sea War
North Sea: First German UE ocean-going minelayer U-boat U74 operational (total 20 completed).
Air War
Britain: Attempted airship raids by 9 Zeppelins (6 cross coast) on London (German Navy) and East Anglia (Army). 13 Royal Flying Corps aircraft go up, 1 hits a Zeppelin with Ranken darts; no bombs on target. 112 casualties (including 86 soldiers and sailors) in Lines, Essex and Suffolk. L13 and L15 hit by AA fire. L15 (Breithaupt) ditches in North Sea (1 dead, 16 taken PoWs, night March 31/ April 1).
Politics
British Prime Minister Asquith arrives in Rome (sees Pope on April 2). Serb Crown Prince arrives in London.
Home Fronts
Britain: Army Council takes over hay and straw supplies. Largest number of working days (327,000) lost since July 1915.
114,934 (mainly Belgian) refugees have passed through London to date.