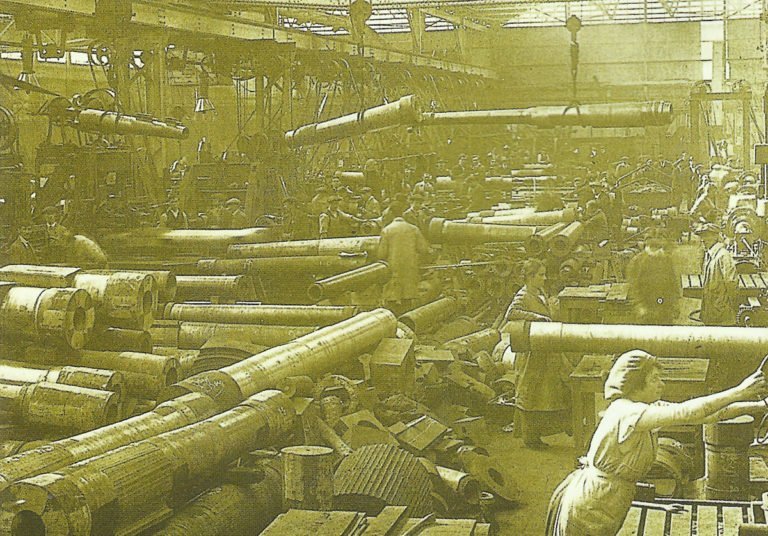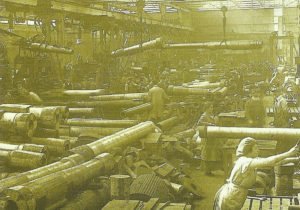 World War One Diary for Wednesday, May 1, 1918:
Home Fronts
Britain: RFP 107% (March level). New War Pensions Warrant issued. Anglo­-Australian zinc agreement for 250,000t per year for duration of war plus 1 year. In May record month's gun production: 1750 pieces with 1275 carriages.
France­: 35,000 armaments workers in May Day strike at Saint-Etienne and vicinity.
Turkey­: Fist war loan in Constantinople (until May 31 and until Juni 30 outside) raises T17.8m.
Germany: In May Ludendorff Fund for War Wounded opens.
Hungary­: General strike, marches in 4 towns despite ban.
Eastern Front
Southern Russia: Germans occupy Sevastopol and seize part of Black Sea Fleet. Hoffmann diary on difficulties of repatriating Austro-German PoWs and 3-4 million Baltic and Polish refugees. During May 2 German divisions transfer to Western Front (until May 10).
USSR: Lenin addresses first May Day rally in Red Square and attends flying display.
Finland: ­Mannerheim holds victory parade in Viborg.
Sea War
South Atlantic: During May Brazilian squadron of 2 cruisers, 4 destroyers and a tender sails for European waters, but crew illness delays them at Sierra Leone.
Adriatic: Austrians suppress plot in Tb80 at Pola.
Germany: In May light cruiser Stuttgart converted to carry 3 seaplanes on davits (since January).
Britain: During last of 44 P-Boat type patrol craft launched (since October 1915), serve with Dover Patrol, Portsmouth and Nore commands.
Air War
Occupied Belgium: During May RAF bombs Zeebrugge with 32t of bombs (and on May 2,6,12 with Ostend on May 22) aiming for lock gates. Bruges docks also attacked on May 25 with 36t of bombs.
Britain: In May first flight of super-Handley Page V/1500 'Berlin Bomber' at Belfast, but crashes in June, second prototype tested mid-October and 3 of 255 ordered ready in Norfolk (No 166 Squadron) on Armistice Day.
North Sea­: Blackburn Kangaroos of No 246 Squadron at RNAS Seaton Carew (Tees) fly 600 hours on anti-submarine patrols from May 1 to November 11; 12 U-boats sighted, 11 attacked.
Salonika: RAF bomb Bulgar airfields in Vardar valley.
Palestine: No 1 Squadron AFC aircraft forced to land and burnt near Amman. 1 German strafing attack on May 4.
Western Front: In early May Fokker DVIIs reach German fighter units in quantity, 828 by August 31. Germans have 2,551 pilots at front.