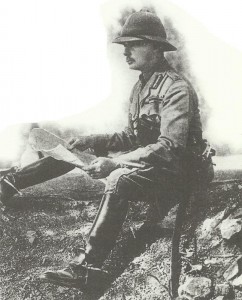 Diary for Tuesday, May 11, 1915:
Middle East
Mesopotamia: Nixon orders Tigris offensive (Viceroy of India outlines plan to London on May 23).
Western Front
Flanders: Germans bombard Ypres-Menin Road but own 2 battalions gassed.
Artois: French XXI Corps finally captures fort and chapel of Notre-Dame de Lorette, but XXXIII Corps fails against ridge heights 119-140; Petain dissuades further frontal attacks.
Southern Fronts
Serbia: British Military attaché at Nis Lieutenant-Colonel APB Harrison tells London that Sava floods and lack of forage have postponed projected Serb offensive; no plans to co­operate with Italy.
Italian-Austro frontier: Francis Joseph orders frontier fort arming and 5th Division to Isonzo line; Standschützen and volunteers mobilize next day. Austrian division from Serbia sent to Isonzo.
African Fronts
Cameroons: 600 French capture Eseka rail terminus.
Sea War
Dardanelles: 17 Allied troop transports withdrawn to Imbros (U-boat threat warning by Room 40 to Royal Navy Admiral Robeck).