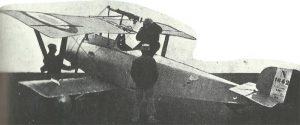 Diary for Thursday, May 11, 1916:
Air War
Western Front: Cmdt de Rose, creator and motivator of the French fighter units defending Verdun, killed when his Nieuport fighter stalls at low altitude, aged 40.
Western Front
Artois: Germans seize 500 yards of British 15th Division trenches northeast of Vermelles; part regained in counter-attack.
Verdun: ­German attack west of Vaux pond.