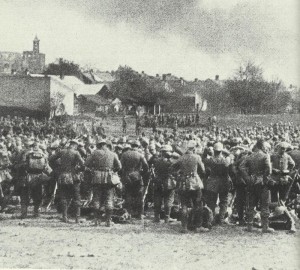 Diary for Wednesday, May 12, 1915:
Eastern Front
Poland: Woyrsch occupies Kielce in general Austro­-German advance.
Western Front
Artois: French 70th Division takes Carency with 1,000 PoWs.
Ypres: British 1st and 3rd Cavalry Divisions relieve 28th Division (15,533 casualties in the battle) in night May 12-13.
Middle East
Armenia: First Battle of Tortum ends in Turk success.
Gallipoli – Helles bridgehead: Gurkhas capture Cape Tekeh (Gurkha Bluff). 2,900 Anzac mounted troops arrive as infantry.
African Fronts
Southwest Africa: Botha occupies capital Windhoek (population ca. 8,000); Governor-General Seitz asks for meeting.
Sea War
Dardanelles: New ­Super-Dreadnought Queen Elizabeth withdrawn for Grand Fleet.