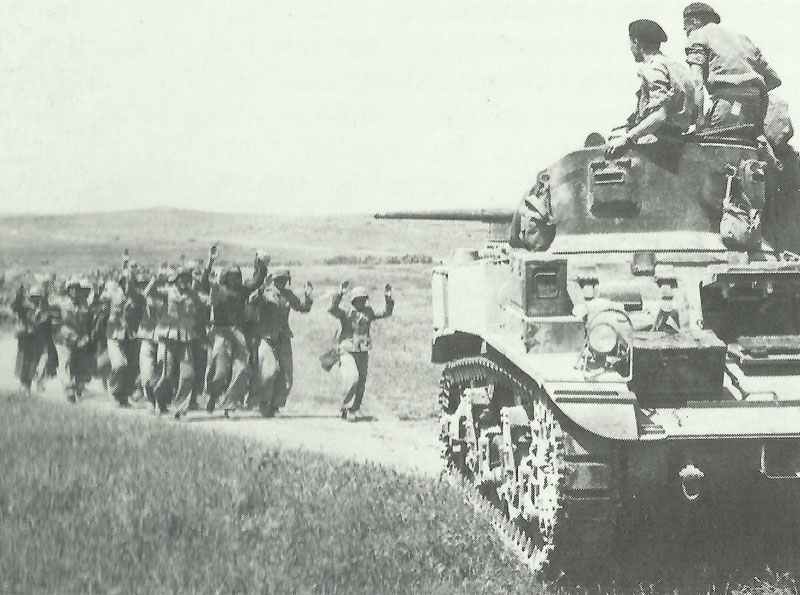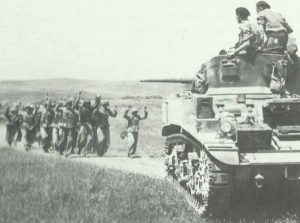 WW2 War Diary for Wednesday, May 12, 1943:
Africa
Tunisia: END OF ALL ORGANIZED AXIS RESISTANCE. Colonel-General von Arnim surrenders to British forces. 150,000 (approx.) Axis troops captured since April.
[tableX caption="Tunisian Campaign Losses" colwidth="30|40|30″ colalign="left|center|center"]
, Casualties, Planes
Axis, "c.200,000 PoWs(100,000 German) + c.70,000 killed or wounded", 890
Allies, "76,020 (38,360 British; 19,439 French; 18,221 US)", 155
[/tableX]
Occupied Territories
Poland: Szmul Zygielbojm; leader of Polish Jews and hero of Siege of Warsaw from 1939, commits suicide in London, aged 48 (his wife and children having been murdered by Nazis).
Air War
Germany: 20 hectares of central Duisburg destroyed by 517 RAF bombers (1,599t bombs); 4 Thyssen plants damaged.
Politics
USA – SECOND WASHINGTON CONFERENCE (May 12-25): Churchill presses for invasion of Italy, but Roosevelt and US Chiefs of Staff demur; every effort to be made to persuade Turkey to join Allies. Ceaseless pressure to be made against Japan.