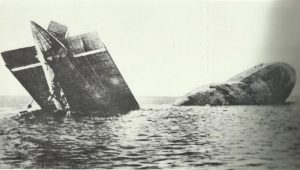 Diary for Tuesday, May 2, 1916:
Air War
Britain: 8 Zeppelins cause 39 casualties in Yorks, Northumbria and Scotland (night May 2-3); storm wrecks L20 near Stavanger, Norway on return (May 3).
Western Front
Somme: French in planned offensive to be led by Micheler, Petain obvious choice but jealous Joffre will not consider him.
Southern Fronts
Macedonia: French troops occupy Florina 23 miles south of Monastir.
Middle East
Mesopotamia: King's mes­sage to Tigris Corps (new 14th Division formed on May 12), cholera out­break (shade temperature 115° F).
Secret War
Stotzingen leaves Jerusalem for Arabia, heads for Wejh but only reaches Yanbo (late May) due to Royal Navy blockade.