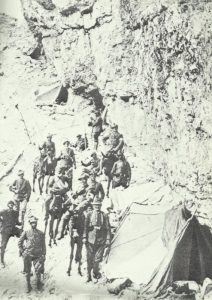 Diary for Sunday, May 21, 1916:
Southern Fronts
Italian Front: Cadorna forms reserve Fifth Army (whose 5 Corps and 2 cavalry divisions concentrate in Vicenza-Padua­-Citadella triangle by June 5); puts Lieutenant-General Lequio from Carnia in command Sette Commune area north of Asiago. Austrian III Corps storms ridges south of Mt Vezena (6,624 ft) forcing defenders (Italian 34th Division) to blow up two more forts.
Western Front
Artois: Aided by 320-gun 14­-hours barrage German 18th Reserve Division captures 1,500 yds of British 47th Division trenches at Vimy Ridge to counter Allied tunnelling, line driven 300 yards west.
Verdun: French storm trenches between Avocourt Wood and Meuse; repel attacks on western slopes of Mort Homme.
Middle East
Afghanistan: German mission leaves Kabul, Hentig to China.
Air War
Western Front: German aircraft lands by mistake in mist on No 27 Squadron airfield at Treziennes.
Home Fronts
Britain: Daylight saving in force.