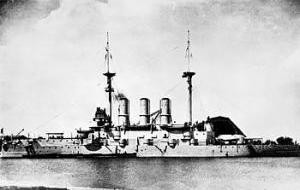 Diary for Saturday, May 22, 1915:
Sea War
Black Sea: Russian battleship Pantelimon torpedoed but not sunk.
Western Front
Flanders: British advance south of Quinque Rue.
Southern Fronts
Austro-Italian frontier: Austrian Archduke Eugene made C-in-C of new Southwest Front against Italy, headquarter at Laibach with able General Krauss as Chief of Staff. General Tersztyanski left in command against Serbia.
Middle East
Mesopotamia: Nureddin Pasha arrives at Baghdad with reinforcements.
Home Fronts
Britain: Worst disaster in British railway history, three-train collision in Scotland, 226 die including 214 men of 52nd Division en route to Gallipoli.