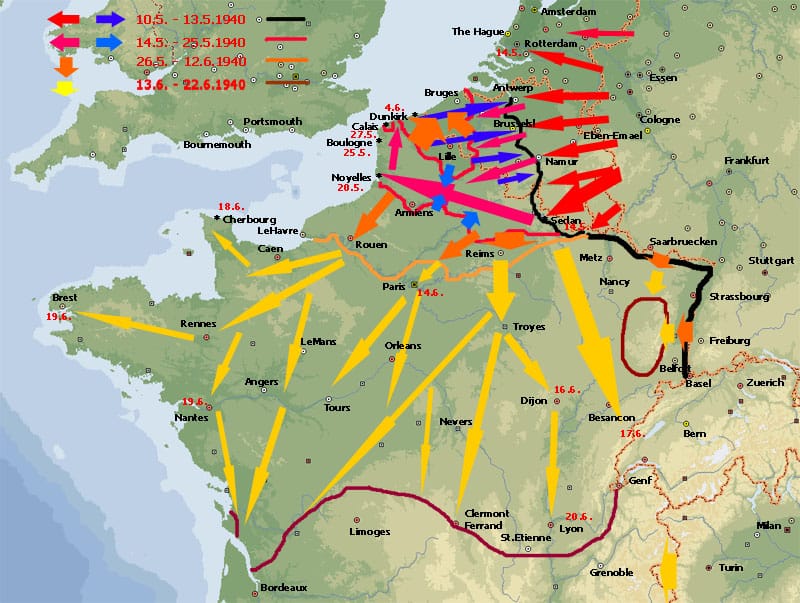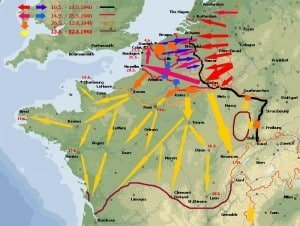 Diary for Saturday, May 25, 1940:
Western Front
BEF despatch two divisions to block the gap between Menin and Ypres. Germans capture 5,000 British and French troops at Boulogne. British garrison repels assault on Calais Citadel and rejects surrender call. French recapture part of Amiens.
Sea War
Cruisers Arethusa and Galatea, six British destroyers and Polish destroyer Bzura give covering fire to small British garrison besieged in Calais Citadel. Destroyer Wessex bombed and sunk.
German aircraft drop mines off English South Coast ports (night May 25-26).
Politics
Belgian Prime Minister Pierlot and Foreign Minister Spaak in London.
Home Fronts
Britain: Munitions factories now working round the clock.
Secret War
Highly secret documents discovered in captured German staff car reveal German plan to attack gap between Menin and Ypres with two corps.