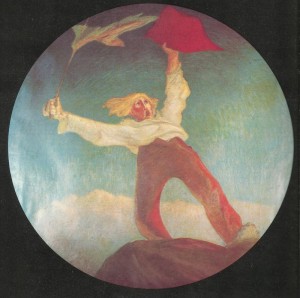 Diary for Monday, May 3, 1915:
Politics
ITALY DENOUNCES TRIPLE ALLIANCE.
Western Front
Artois: French preliminary bombardment begins. Germans expect offensive for next day.
Eastern Front
Galicia: 12-mile gap in Russian line, Sakharov's 3 divisions (X Corps) destroyed in 8-mile advance since the day before.
Middle East
Gallipoli – Helles bridgehead: French repulse Turk night attacks.
General Gouraud replaces d'Amade. Kitchener assures Cabinet 'no doubt that we shall break through'.
African Fronts
Cameroons – First Action at Wumbiagas until next day: c.600 Nigerian troops cross river Mbiia.