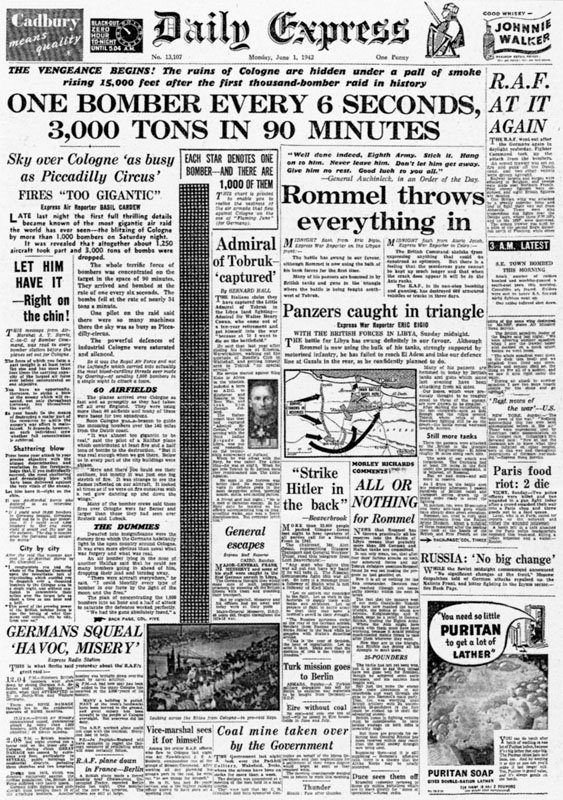 WW2 War Diary for Saturday, May 30, 1942:
Air War
Germany – FIRST 'THOUSAND BOMBER RAID' ON COLOGNE (Operation Millenium): 1,046 RAF bombers (including 101 with Polish crews and 367 bomber/trainers) – 40 lost – drop 1,455 t. of bombs. 600 acres of built-up area devastated by fire; 18,472 houses and buildings destroyed, 40,000 buildings damaged, 368 industrial plants hit and railway repair shops destroyed.
Casualties: 486 killed, 5,027 injured, 59,100 homeless.
Prior to this historic raid, Air Marshal Harris sends Message to all Bomber Command stations: 'Press home your attack … with the utmost determination … if you individually succeed the most shattering and devastating blow will have been delivered against the very vitals of the enemy. Let him have it – right on the chin ! '
50 RAF aircraft (2 lost) carry out diversionary raids on airfields in Germany and occupied territory.
Eastern Front
Ukraine: Special announcement from Hitler's headquarter claims the great battle round Kharkov is ended and that the German and Axis forces have transformed their defence against strong enemy into a proud victory of annihilation and that the Luftwaffe has driven the enemy out of the air.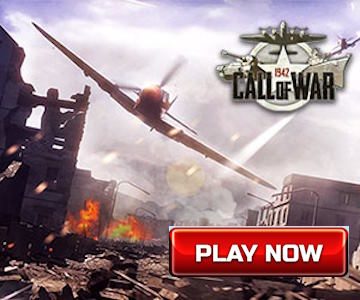 Sea War
Indian Ocean: Japanese midget submarines torpedo battleship Ramillies and a tanker in Diego Suarez harbour, Madagascar (night May 30-31).