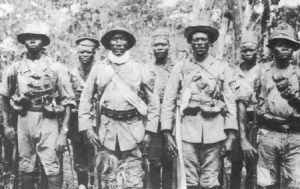 Diary for Tuesday, May 9, 1916:
African Fronts
East Africa – Battle of Kondoa Irangi (until May 10): Lettow's 4,000 men's four night attacks repulsed by South Africans; others occupy Mbulu, southwest of Lake Manyara (May 11).
Western Desert: Mahon becomes commanding general WFF (Western Frontier Force).
Sea War
Turkey: Enver Pasha appeals for Central Powers' naval help against Russian Black Sea advances, Falkenhayn backs it and Germans send U38, but she sinks only 4 small ships (until August 11).
Politics
Britain: King George V receives Russian Duma members (Briand also, May 22).
Neutrals
USA: Wilson orders 4,000 more regulars to Mexico and border. Nationals advised to leave Mexico (May 10).