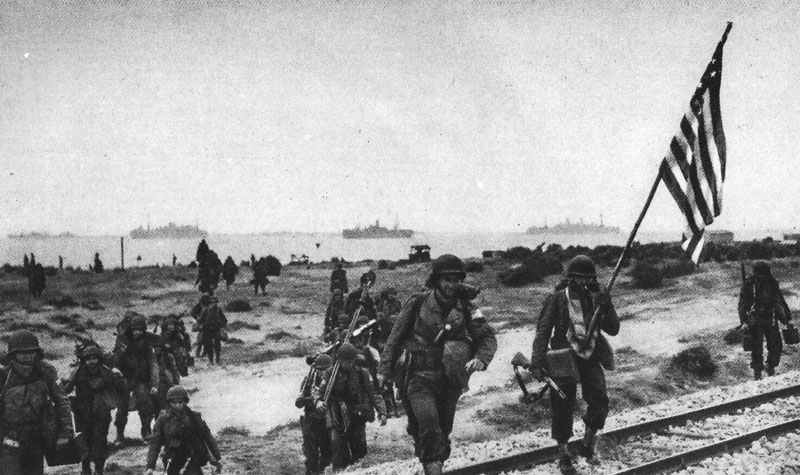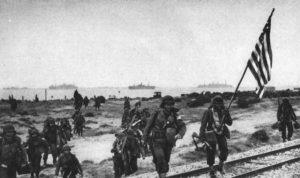 WW2 War Diary for Sunday, November 8, 1942:
Sea War
Mediterranean: OPERATION TORCH – ALLIED LANDINGS IN FRENCH NORTH AFRICA. 3 powerful Allied Task Forces, including US battleships Massachusetts and Texas and 5 aircraft carriers, land 34,300 troops near Casablanca, 39,000 US troops near Oran and 33,000 British and US troops near Algiers.
Vichy French naval forces offer fierce resistance and make repeated sorties against the Task Forces, losing 1 cruiser Primauguet, 10 destroyers and 13 submarines. At Casablanca, US battleship Massachusetts exchanges heavy fire with partially operational battleship Jean Bart and powerful shore battery. British sloops Walney and Hartland and destroyers Broke and Malcolm, sent into Oran and Algiers harbours with landing parties on board, come under murderous fire – only Malcolm escapes.
New Italian fast cruiser Attilio Regolo damaged by British sub Unruffled, west of Sicily.
Air War
Mediterranean: Luftwaffe lands advance elements of German expeditionary force at El Aouina Airport, Tunis. German bombers and torpedo planes hit 5 transports, escort carrier Argus and monitor Roberts off North Africa (November 8-14).
Luftwaffe losses in Malta raids, January 1-November 8, 1942: 172 bombers and 99 fighters.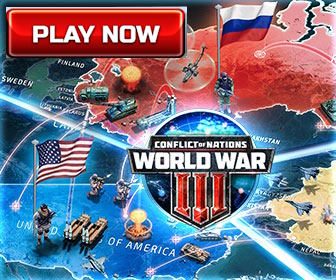 Home Fronts
Germany: Hitler announces fall of Stalingrad ('except for some very small parts').