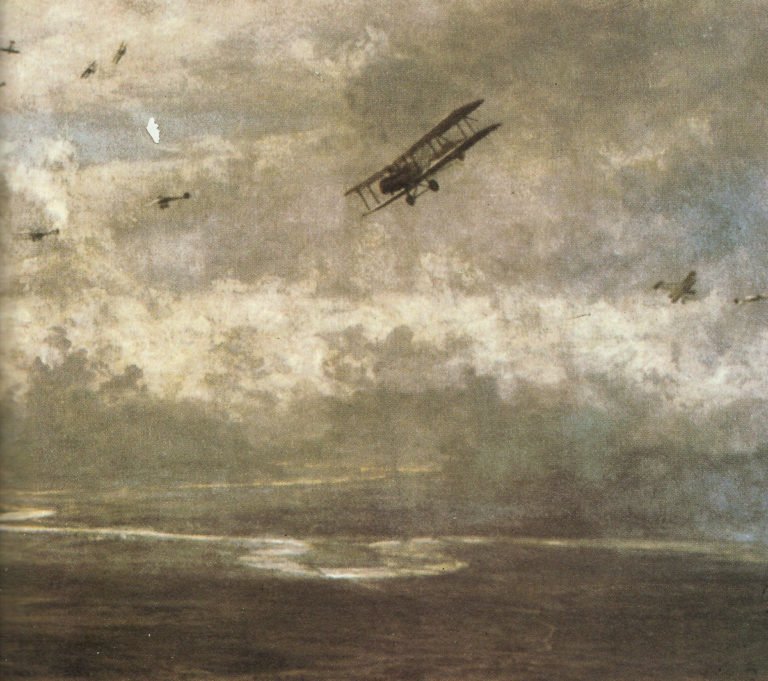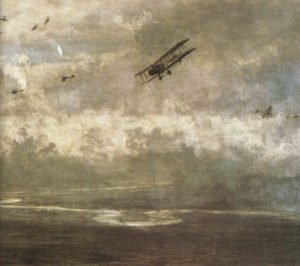 World War One Diary for Thursday, November 9, 1916:
Air War
Belgium: 6 RNAS Short seaplanes (1 FTR) bomb Ostend docks and Zeebrugge (repeated November 15 and 17), 19 RNAS bombers raid Ostend (November 10; 10 bombers repeat on November 12). Zee­brugge again bombed on November 22 and 28; little damage but German torpedo boats lie up at Bruges.
Somme: RFC helps fire on 203 targets (40 direct hits) and discovers Hindenburg Line works. RNAS No 8 Squadron (from Dunkirk units) joins Somme fighting, destroys 24 aircraft for loss of 2 pilots (until December 31). Largest air battle yet: c.30 German fighters intercept 12 British bombers and 14 escorts destroying 5 (BE2c to Richthofen) and damaging 3; 26 other air combats.
Eastern Front
Western Russia: Germans take 3,400 PoWs at Skrobova.
Dobruja: Sakharov occupies Hirsova (also Topalu 12 miles southeast on November 11) and Dunarea on Danube eastern bank, fighting for Cernavoda Bridge (until November 12) ends in retreat to Dunarea.
Politics
Germany: Bethmann Reichstag speech replies to Grey on causes of war. Asquith Guildhall speech assures Venizelos and Armeni­ans of British sympathy; no separate peace possible.