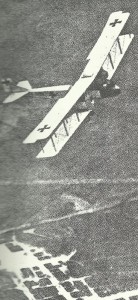 Diary for Saturday, October 2, 1915:
Air War
Germany: First German 'Giant' heavy bomber ferried to Eastern Front.
Western Front: French airship Alsace shot down. 62 unescorted French bombers (2 lost) raid German HQ town of Vouziers on the Aisne but are intercepted by two-seaters.
Eastern Front
Middle East
Afghanistan: German Hentig Mission reaches Kabul but kept virtual prisoners; Amir interviews on October 13.
African Fronts
Southern Tunisia: Up to 2,000 Tripo­litanians attack French post until 1,650 troops relieve it on October 9.
Politics
Bulgaria: Government agrees with Central Powers to enter war on October 15. Russian ultimatum to Bulgaria.