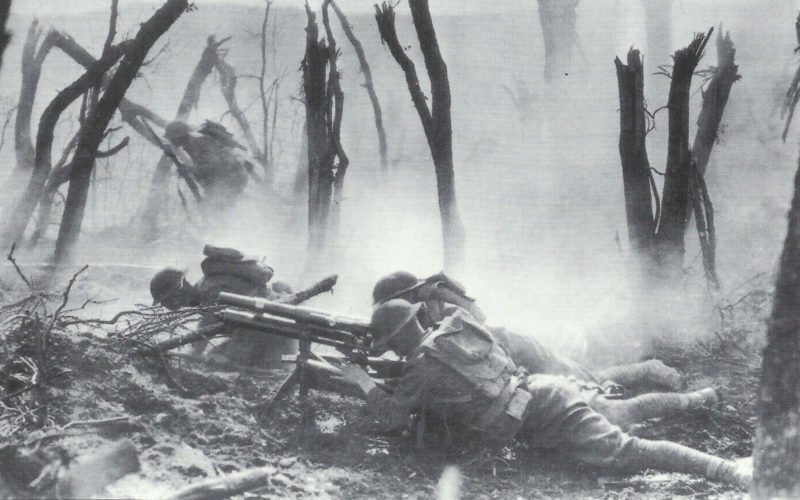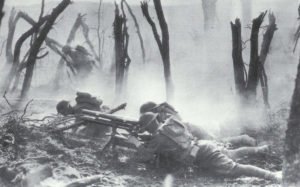 World War One Diary for Wednesday, October 2, 1918:
Western Front
Germany: Bussche briefs Reichstag party leaders: sustained Allied attacks on whole Western Front make formation of reserves impossible; OHL can no longer make good losses suffered; Germany can continue for some time inflicting heavy losses and implementing a 'scorched earth' policy, but she cannot win the war. Every day reduces likelihood of accept­able peace terms.
Britain: 3,017 BEF officer weekly casualties since September 25, second highest of war.
Argonne: Surrounded US 'Lost Battalion' (308th Infantry Regiment, 77th Division) holds till relief (until October 7), 194 survivors from over 600.
Flanders – Fourth Battle of Ypres ends: Allies stopped short of key objectives (Roulers junction and Menin), but gain 11,000 PoWs, 300 guns and 600 MGs for 4,500 Belgian and 4,695 British casualties.
Somme: French First Army's left wing (XV Corps) liberates a ruined St Quentin.
Middle East
Syria – Last Australian action: 9th ALH takes 1,481 PoWs, 3 guns and 26 MGs; only 17,000 of 100,000 Turks have escaped north. Lawrence's Arabs disperse Algerian-Druze riot in Damascus.
Mesopotamia: ­Marshall told to begin Tigris advance without delay. Trading with enemy limits raised in Baghdad and Basra districts.
Sea War
Adriatic: Allied Fleet (3 Italian battleships; 3 Italian and 5 British cruisers; 16 British and 7 Italian destroyers; 8 Italian torpedo boats; 4-6 MAS boats) shells Durazzo, 3 Austrian destroyers and torpedo boats slightly damaged in harbour (Austrian evacuation ordered September 28). Hospital ship allowed out. Austrian U-31 torpedoes cruiser Weymouth's stern off.
Western Mediterranean: U-boat shells and sinks Spanish SS Francoli (292 lost) off Cartagena.
Air War
Flanders: 80 Allied aircraft drop 15,000 rations (13t) from 300ft in 4 hours to leading Franco-Belgian troops in swamp terrain. German communications bombed (October 3-4).
Albania: RAF from Andrano in heel of Italy make 4 raids on Durazzo (total 29 aircraft), drop 6,280lb bombs.