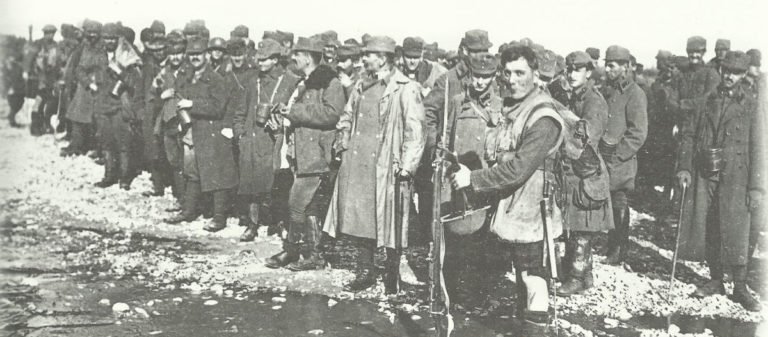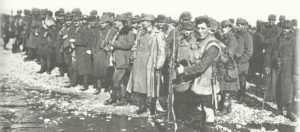 World War One Diary for Sunday, October 27, 1918:
Southern Fronts
Piave: Austrian counter­-attacks recapture Mt Pertica (briefly), Istrice and Valderoa (600 PoWs). After wading across from 0645 hours Italians and British form 3 bridgeheads over Piave up to 2 1/2 miles deep, taking 7,800 PoWs and 74 guns. Austrian guns destroy 3 bridges by 0800 hours but parts of 2 Austrian divisions refuse to counter-attack. Eighth and Twelfth Armies rely on swimmers (82 Caimani di Piave) and air supply as 5 new bridges short-lived, only allowing 17 battalions to cross (night October 27-28).
Western Front
German attack northwest of Le Quesnoy repulsed.
Aisne­: French Fifth Army attacks on 7 1/2-mile front northwest of Chateau Porcien (west of Rethel), major bombing of Seraincourt to northwest on October 28.
Meuse and Argonne: US 78th Division (c.5,000 casualties) captures Grandpre after fighting since October 25.
Air War
Western Front: Canadian Major W Barker in Sopwith Snipe of No 201 Squadron single­-handedly battles 5 formations totalling c.60 aircraft over Mormal Forest. He shoots down 4 (50 victories total), receives 3 wounds, and crash-lands behind British lines (Victoria Cross awarded on November 30).
Italian Front: 6 RE8s drop 5,000 rounds by parachute to forward British troops. 9 Sopwith Camel fighters destroy 3 Austrian balloons. Austrians bomb Allied Piave bridges without success.
Politics
Austria: Emperor Charles cables Kaiser 'My people are neither capable nor willing to continue the war … I have made the unalterable decision to ask for a separate peace and an immediate armistice'. AUSTRIA ASKS FOR ARMISTICE (via Stockholm) AS DOES GERMANY. Lammasch succeeds Hussarek (resigned) as Austro-Hungarian Prime Minister (until October 31), receives Czech Ambassador on October 30.