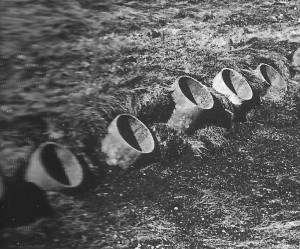 Diary for Saturday, September 25, 1915:
Western Front
Champagne – FRENCH AUTUMN OFFENSIVE: with 16 divisions with flags flying and bands playing at 0915 hours in drenching rain (until September 29), 10th Colonial Division (General Marchand, wounded) advances 2,500 yards in an hour, penetrates German first line 2 miles along a 15-mile wide front and taking 1,800 PoWs and 17 guns.
First use of French 9.45-in Batignolles heavy mortar (192lb bomb; BEF adopt it in 1916).
Falkenhayn orders 3 1/2 divisions to reinforce defenders.
Artois – BATTLE OF LOOS or THIRD BATTLE OF ARTOIS (until October 8): after 25 days bombardment by 951 guns, British attack with 6 divisions at 0630 hours on 6 1/2-mile front south of Le Bassee Canal to east of Grenay-Vermelles. They advance up to 4,000 yards and capturing part of Hohenzollern Redoubt, Laos village and Hill 70; but German second line holds and Field Marshal French releases the 2 reserve divisions only at 1230 hours while Prince Rupprecht orders up 22 battalions. French Tenth Army (14 divisions attack from 1225 hours) only manages to capture remainder of 'Labyrinth'.
Allied feints (diversionary attacks) on the Yser, near Ypres-Comines Canal, Bois Grenier, near Neuve Chapelle and near Givenchy.
FIRST BRITISH USE OF POISON GAS: 2400 chlorine cylinders blown off (70t gas) with Stokes mortar smokescreen; 2400 German casualties (600 dead).
Eastern Front
Austrian strength down from 480,000 to 230,000 soldiers (since September 1).
Western Russia: Russian troops retake Drisviati, south of Dvinsk.
Pripet­: German Bugarmee crosses river Styr until following day, but repulsed north of Pinsk.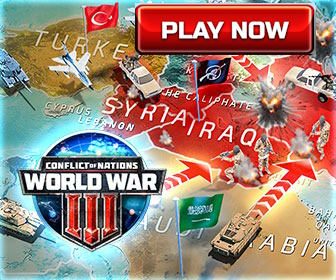 Southern Fronts
Serbia: British war minister Kitchener and following day foreign minister Sir E Grey dissuade Serbian Lieutenant-Colonel Pavlovic (sub-CoS to Putnik) from pre-emptive strike against Bulgaria, but Pavlovic urges that 100,000 Allied troops be sent to Veles (Greece) as deterrent. General Bailloud (at Gallipoli) ordered to spare 1 French division for Salonika.
Italian Front: Cadorna replaces General Nava of Fourth Army with General di Robilant.
African Fronts
South Tunisia: French evacuate two frontier posts; Remsta repulses 27 hours of attacks until next day.
Sea War
Baltic: Russian Fleet shells German positions on Gulf of Riga.
Air War
Germany: Reichsmark 25,000 price on French day bomber leader Captain Happe of Esc MF29; he evades Boelcke after raid on Rottweil in which the two other French aircraft were lost.
Western Front­: Royal Flying Corps has 12 squadrons with 189 serviceable aircraft and 4 RNAS balloon sections.
Occupied Belgium: 8 Royal Navy Air Service aircraft from Dunkirk drop 28 bombs on Tirpitz Battery (only one hit).
Politics
Serbia: Government promises Doiran and Gevgeli to Greece and not to claim Strumitsa.