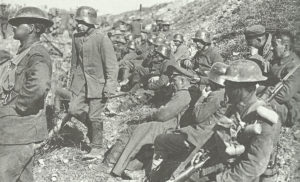 World War One Diary for Friday, September 27, 1918:
Western Front
Meuse-Argonne: Franco-American advance slows. Montfaucon behind Michel Stellung and Varennes (Crown Prince's 1916 Verdun observation point) captured, 23,000 PoWs.
Flanders: Battle of Flanders Ridges begins (until October 10).
Cambrai­: BEF ATTACKS HINDENBURG LINE with Third (15 divisions) including 16 tanks (5 lost) and First Armies (12 divisons) on 14-mile front from 0530 hours. Battle of Canal du Nord (­until October 1): British within 3 miles of Cambrai as 4th Canadian Divison and 2 tanks capture Bourlon with Wood. Two other villages fall in 3-mile advance, including Graincourt to Guards Briagde; 10,000 PoWs and 200 guns taken. Rupprecht writes that peace must be made in winter. US 106th Regiment (27th Division) loses 1,540 of 2,000 men attacking three outposts of Hindenburg Line.
Eastern Front
North Russia: Allied Archangel advance blocked by far larger Red force at Nizhne-Toimski after 60-mile push, retreat to Borok and dig in until September 28.
Southern Russia: Stalin signals Trotsky for 30,000 rifles, 150 MGs and 50 guns or else retirement east of Volga.
Middle East
Palestine: Australian Mounted Division begins ride for Damascus by crossing Jordan.
Trans-Jordan: Arab Army cuts in at Sheikh Saad, makes 2,000 PoWs and wipes out 2,000 Turks in revenge for Tafas village massacre.
Air War
Western Front: 57 RAF squadrons with 1.058 aircraft support BEF assault on Hindenburg Line; 6 fighter squdrons make low-lying attacks using 70t bombs and 26,000 MG rounds; 3 German airfields attacked. Germans claim 44 Allied aircraft for loss of 10. Handley Pages drop 6t bombs on Busigny rail junction (night September 27-28).