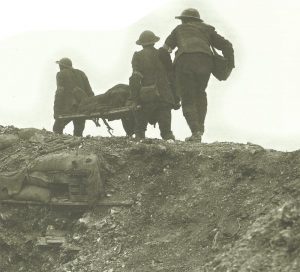 Great War Diary for Thursday, September 28, 1916:
Western Front
Battle of the Somme: British capture most of Schwaben Redoubt and Canadian Corps advance 1,000 yds north and northeast of Courcelette (until September 30). French advance at Morval.
Politics
Austria-Hungary: Foreign Minister Burian submits peace offer proposals to Francis Joseph's 'most sympathetic attention'
Home Fronts
Austria: German Ambassa­dor describes economic climate as 'simply wretched'; Bethmann forwards to Kaiser on September 30.
Britain: Asquith pledges not to recruit skilled workers. Board of Trade organizes overland delivery of Italian fruit and vegetarians. Munitions holiday (until October 1) replaces postponed Whit­suntide and August holidays. Churchill appears before Dardanelles Commission. Tory Morning Post tells Lloyd George to stick to his desk in Whitehall.