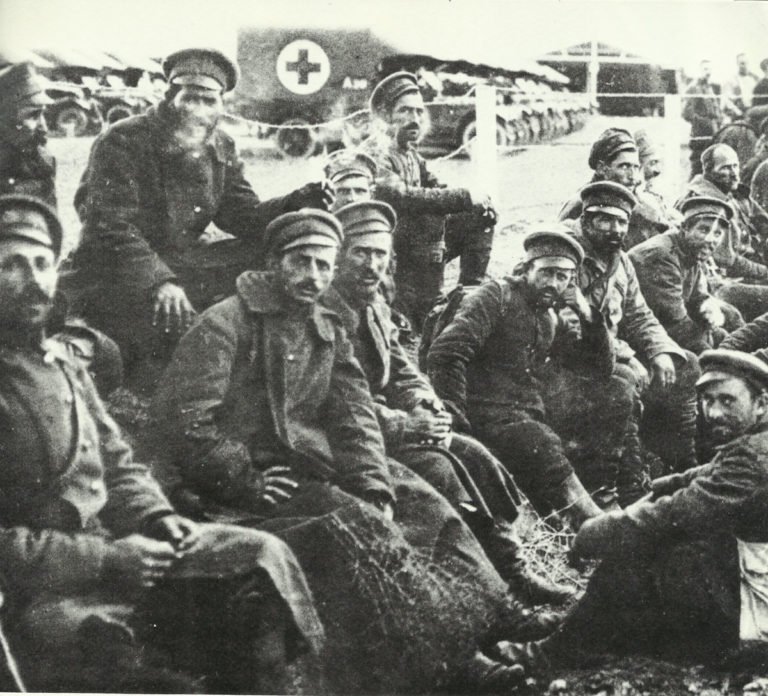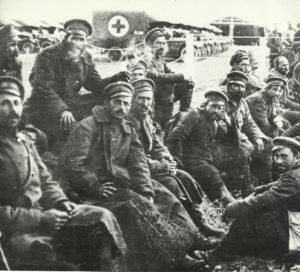 World War One Diary for Saturday, September 28, 1918:
Southern Fronts
Salonika: Armistice talks begin at 1600 hours including General Lukov and Bulgar Finance Minister who hope for neutral status but d'Esperey unyielding.
Serbia: French 57th Division occupies Ochrid.
Dolomites: ­Austrian attack in Val Guidicaria repulsed.
Western Front
Germany: HINDENBURG AND LUDENDORFF AGREE AFTER 1800 HOURS GERMANY MUST REQUEST AN IMMEDIATE ARMISTICE (KAISER APPROVES SEPTEMBER 29).
Flanders – FINAL BATTLE OF FLANDERS (until November 11): Allied Flanders Army Group (King Albert, CoS General Degoutte) of 28 divisions with 2,550 guns (12 Belgian with 170,000 men, 10 BEF, 6 French divisions) after 3-hour barrage advances on 23-mile front. Houthulst Forest (4-mile advance) and Wytschaete captured with 4000 PoWs. Belgian 4th Carabineers storm Passchendaele. British Second Army fights Fourth Battle of Ypres (until October 2), in 4 1/2-6 mile advance (9 miles by end of September 29) recaptures Gheluvelt and Messines.
Aisne: Italian troops cross east of Conde in surprise night attack.
Africa
East Africa: Lettow recrosses river Rovuma into German East Africa, opposite Nagwamira (8 hippos shot for meat to celebrate return). Kartucol reaches river Lugenda.
Sea War
North Sea: British ships and aircraft attack Zeebrugge. 11 German destroyers evacuate port on September 30 and reach Germany thanks to moonless nights, shoals and rough weather which thwart Harwich Force.
Britain: ­Swan Hunter yard launches first fabricated 'straight line' ship SS War Climax, 31 weeks from laying keel.
Air War
Western Front: Udet destroys 2 US-crewed DH and receives bullet graze. Lieutenant F Rumey (45 victories) of Jasta 4 killed in action. Bogohl 3 and other German units drop 167,154lb bombs. Most crews carry out 3 sorties (night September 28/29). RAF loss of 424 men since September 15 severest of war, average 15.5 per 100 planes flown (1,404 serviceable).
Palestine and Syria: RAF bomb Damascus airfield from new Kuneitra landing ground, supplied with fuel by air. Aircraft land at Damascus on October 1.
Flanders: ­24 RAF squadrons support final Allied advance, helped by radio telephone. 6 main rail targets attacked, 27 aircraft lost in low-flying attacks.