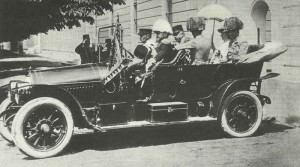 World War One Diary for Sunday, June 28, 1914:
BOSNIA
MURDERING OF ARCHDUKE FRANCIS FERDINAND AT SARAJEVO, AUSTRIAN HEIR, together with his wife Sophie, the Duchess of Hohenberg, during their visit of the Bosnian capital. Both shot by Gavrilo Princip, an 19-year-old Bosnian Serb student belonging to the Serbian Black Hand terrorist organization. The weapons were obtained in Belgrade.
POLITICS: GERMANY
The Kaiser told the news while racing his yacht Meteor in Kiel Bay.
POLITICS: TURKEY
Anglo-German-owned Turkish petroleum company gains exclusive exploitation rights in Mesopotamia.
POLITICS: USA
Suffragettes march on Capitol.